I will continue with my Friday Favorites starting up this next Friday.
I am working on Cookie A's BFF socks, in some freakin sunshine bright yellow KP Palette (that appears to be discontinued because it's not on the site).  Kinda bums me because I am 6 cables into the pattern and the yarn has just broken off in my hand 3 times.  I'm not fond of having to rip back, spit splice, and then reknit.  Luckily I can't even see where I did the spit splicing, so it could be worse.  I love this pattern though, super easy, don't have to look at the pattern once you get the first repeat done…so it's nice TV knitting.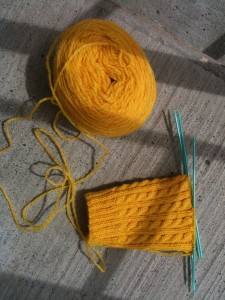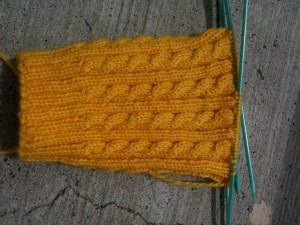 I don't know if anyone else has this problem, but my fingers are killing me.  My pointer finger has a hole in it from all the other sock knitting I have been doing (going from one to the next hasn't given it time to heal) and am starting to get one on my thumb from the purling.  I push the needle back when I am finishing a stitch.  I taught myself to knit so I don't really know if I knit the right way.  But is there really a right way?  The right way seems to me to be the way that is most comfortable to you, but maybe there is a less painful way to do it.  I have been doing it this way for 7 years, and my hands are so used  to it.  I have tried other ways of knitting and it is wayyyy more awkward than it was even learning to knit.  How I hold the needles, the yarn…So I guess I should just buy stock in Band-Aid and quit my complaining.
I used to solely use bamboo DPN's for any small-gauge knitting I had.  I finally realized that wasn't going to work for me when I was working on the Lacey Vogue Gloves…I bent the HELL out of those bamboo needles (the ones I didn't break).  If I just add a piece of thread, I have Barbie-sized bows.  It's nice that they are flexible and all, but it's hard to pick them up and start knitting with them again bent like that.  Metal needles, forget it.  They slide right out of my work, leaving all these stitches hanging loose.  I found these plastic DPN's at JBW.  They have something inside them, I don't know if it's metal to give them weight and stability or what, but I have found that these work the best for me.  The stitches don't slide off the needles, and the needles don't bend.  Just pointy enough to get into tight spaces (and put holes in my fingers), but not too dull. So I think I am going to stick with these for the tiny gauge projects!
I have an FO, just an easy peasy hat that was a super quick knit and is heavenly soft.  Knit in Classic Elite Premiere in white, this is the Lotus Hat.  I wished I would have done one more repeat.  I am still debating whether I want to rip out the decreases and just do one more increase – I think I would get more use out of it.  SOOOO SOFT.  I loved knitting with it.  As with any cotton, it sucked the life out of my hands moisture out of my hands, but like I said before…soft.  So soft.  A great little hat to wear this summer with a tank and jeans.  Braided hair.  Cute!
OK, this cold makes me woozy and dizzy and I have bored myself to tears with this post.  Ta ta for now!
Tags : Bamboo DPN, KP Palette, Pony DPN, socks