When I saw this pattern on Ravelry, I fell in love with it.  I loved the slouch, loved the lace pattern, just loved it.
Well, when I knit mine up, it didn't slouch so much, even though I used the largest size.  I have a big head, and lots of hair, so I guess I should have known better.  I couldn't love this hat more though, than I do.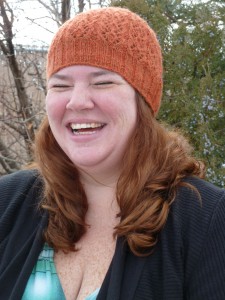 Project Details:
Pattern:Â  Pasha
Yarn:Â  Berroco Ultra Alpaca, Colorway Candied Yam
Modifications:Â  None!
Thoughts:  I loved this pattern.  The lace repeat was easy to remember, and the yarn was a delight to work with.  This was my first time using the Ultra Alpaca, and I love the tans and browns and slight 'other' colors in this colorway, giving it a bit of a rustic feel.  This project was a quicky for me, and I just love it.  I really enjoy the look of the ribbing flowing right into the lace pattern, I think it just adds to the beauty of this hat.
Some more pictures: